Magical Team Recognition for Slack
Unicorn Train is the easiest way for teammates to recognize each other for doing great things. Start building relationships, boosting morale, and encouraging awesomeness today.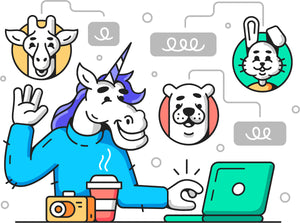 Getting onboard Unicorn Train couldn't be easier 🚀
Discover the top rated Slack app for building a remote team culture.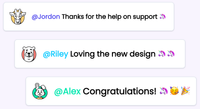 Mention a teammate in a Slack channel 💬
Include 🦄 anywhere after a username. Get fancy by including more emojis after 🦄 to create a train of sorts 🦄 🙌 😄
Each 🦄 counts as an entry in a draw 🗳️
Win fun awards, home office perks, gift cards, or bonuses to keep your team engaged  🙌
Winners are selected and announced to the team 🥁
Draws are automatically run on a periodic basis, any number or combination of prizes can be awarded 🎉
Add some excitement with fun rewards
High achievement designations
Award your team's top contributors with a title they can proudly update their profile with. Valuable recognition can be as easy as a well-deserved appointment such as Unicorn of the Month, Team Wizard, Support Superstar, etc. 💪
Home office perks and benefits
Freshen up the home office with flower subscriptions, inspirational books, and colorful art. Other perks remote workers love to receive include food baskets, cleaning services as well as some time off to enjoy the great outdoors 🌞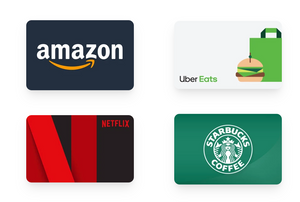 Popular and flexible gift cards
Who doesn't love a free lunch? Gift cards are always an easy win with the team, especially for their favorite sites or services. The options are endless and the amounts can vary, but they are always highly appreciated 🍕
Track your progress from team to tribe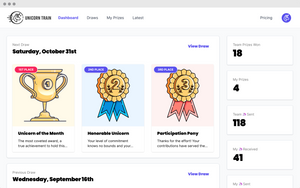 Perfect for teams building the next unicorn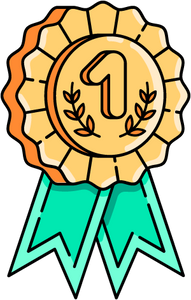 Fosters a strong remote team culture
Teammates and new hires can often feel isolated and underappreciated on remote teams. By introducing a new behaviour that replaces the office high-fives and team lunches, remote teamwork can actually be fun 🤪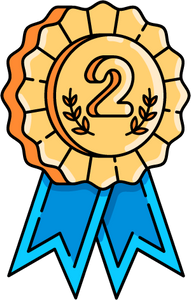 Rewards engaged teammates
Individuals are publicly recognized for their good deeds and contributions within your company. By rewarding this effort, your team is encouraged to continue sharing their praise and gratitude for one another 🙏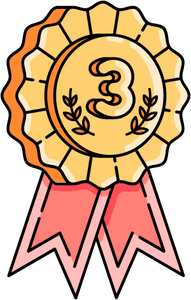 Secure multiplatform support
By integrating with the apps your team already uses, your team can
easily share praise anywhere. Unicorn Train incorporates native authentication for each platform and does not store messages 🔒
Seamless integrations with the apps you love
Unicorn Train connects everywhere your team collaborates.
Unite your collaboration tools with 🦄🦄🦄
Soon
Soon
Soon
Soon
Soon
Soon
Teams are the magic that delivers value to companies. Finding ways to help them gel is one of the most valuable ways a leader can contribute to their success.

William Anderson, Forbes
Having worked on startup teams for 10+ years, nothing brings a remote team closer together than celebrating wins with gratitude and fun rewards.

Brad Miller, Unicorn Train
Really happy to see how Unicorn Train has improved the gratitude for one another in our team.

Adam Pearce, Blend Commerce
4X your revenue with good company culture
69% of employees say they'd work harder if they were better appreciated.
Companies with high employee engagement are 21% more profitable.
Recognition leads to increased motivation, a sense of pride and increased self-confidence at work. Source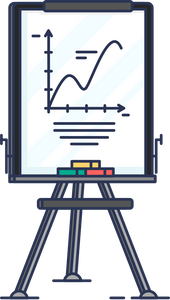 Be a Legend
Try Unicorn Train free for 30 days and you'll be forever remembered as a hero on your team.